Ecosystems Services,
Inc. specializes in
designing and building residential and commercial irrigation systems
from concept to completion. Services include but are not limited to
irrigation repair, installation, renovation of existing systems, site lighting and drainage solutions.
Our company delivers quality workmanship and is focused on "above and beyond" customer satisfaction!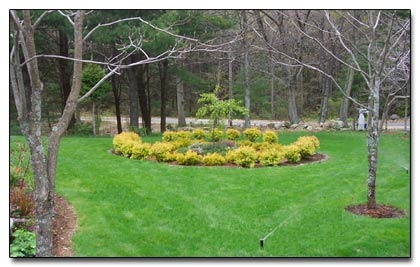 ---
David was superb. Super friendly, responsive, reasonable rates. . He and Jose were really professional, diagnosed the problem (a hole in our sprinkler pipes), and fixed it in under 30 mins. They also took the time to adjust our sprinklers so they all faced the lawn, and gave general advice. Will be sure to use him and recommend over and over again.
Tom Cunningham
2022-05-09
Dave was prompt and the sprinklers problem was fixed quickly. When I first called him, he said that he was super busy and could not come for 2-3 weeks. He called back a few minutes later and said that they could stop by. We have used his company before to fix a problem caused by a plumber and he quickly diagnosed and fixed that issue. I highly recommend his company.
Brian Goulding
2022-05-06
I have an older irrigation system that has experienced several problems over the past few years. David and his amazing assistant found and fixed every problem in no time and then charged a very reasonable price. His extremely high approval rating speaks for itself, and so he is busy. But he is worth any amount of time you may need to wait!
Dave from Ecosystems Services did an outstanding job repairing our sprinkler system, which we thought was completely destroyed. He is so approachable, and he patiently and promptly addressed our questions and concerns. His love for his job, his knowledge, and his concern for customers is evident. Dave explained the project, options, and costs in detail and abided to the original estimates. He uses high quality material, and is professional, diligent, and honest from start to finish. We would absolutely recommend Dave from Ecosystems Services without hesitation.
Marty Dorazewski
2022-05-03
David arrived as promised on time and quickly diagnosed and changed a failing valve. After changing the valve, David inspected the zone to ensure all sprinkler heads were working properly. That is when David noticed water coming to the ground surface in an area where there were no sprinkler heads and hidden by bushes. David and Pablo persisted to search for the source of the water leak until they finally found and replaced the PVC pipe T connection that caused the leak. I highly recommend David and Pablo for irrigation system repair and maintenance. If in the future, I have any irrigation system problems, I will call Ecosystem Services. David Robertson has convinced me that he is very knowledgeable, honest, fair and can be trusted to do an excellent job.
David answered the phone right away and helped us repair the sprinkler system the same day! very professional and nice. We highly recommend David.
Just moved into a new home, couldn't figure out the new sprinkler system. 1 phone call to these guys and they walked me through it over the phone, saved me the service call fee and everything. Highly recommend these guys!
Jeff Silverman
2022-04-28
Great resource for sprinkler systems, very professional and responsive. Great value as well. You are dealing with a "friend."
John Michael Wilder
2022-04-26
David did a great job to quickly solve our irrigation problem. Would absolutely use Ecosystems again. Very pleased!!!
You don't see exceptional very often these days, but it's the only word to describe David at EcoSystems. Knowledgable, Professional, Personable.... Exceptional! Customer service better then Apple. I'd have given him 10 stars if it were an option. We won't use anyone else.
Check out our Yelp! Reviews
David was superb. Super friendly, responsive, reasonable rates. . He and Jose were really professional, diagnosed the problem (a hole in our sprinkler pipes), and fixed it in under 30 mins. They also took the time to adjust our sprinklers so they all faced the lawn, and gave general advice. Will be sure to use him and recommend over and over again. 5 stars!
David and his team came out today and did an exemplary job at my home. I had a leaking sprinkler pipe that required attention and David restructured his schedule to come out and is very sincere, professional and reliable. I highly recommend this company and am very pleased with the experience.
David and team to the rescue once again!  This time to cap off two irrigation lines off of a lateral pipe in one of my zones.  Was having some backyard work done when the workers dug up two of my sprinkler lines that needed to be capped.  Called and left David a voice mail to see if there was any way he could come take a look as my situation quickly presented itself to be somewhat of an urgent issue.  As always, super responsive - called me back right away, I explained to him the issue.  He had two committed appointments before he could get to me, but got over here right in time and got the issue addressed, quickly with professionalism and quality.  David and his team are my go-to anytime I need irrigation related issues addressed/fixed.  He has pretty much identified and fixed every irrigation or water line related issue I have had with my house, where the previous owner had neglected or had cut corners from valves to sprinkler heads, from main line to irrigation lines, you name it.  I give David from Ecosystem Services the highest commendation for service, reliability, and quality.
These guys are real rock stars.  Dependable, consistent, and professional. They have been out several times to fix various irrigation issues - always excellent service. Add them to your go-to list!
David's team was fast to find my leak and address the issue.  He did a good job of explaining what went wrong and why. He's very knowledgeable and friendly.
David was great. He replied very quickly, communicated well, was available very soon,, and very reasonably priced.  Most important, he and his team did a great job! Would have no concerns calling him again for any irrigation needs, definitely recommend him without hesitation.
We had one zone in our irrigation that stopped working. David and his assistant found the underground broken wire and fixed it very quickly. They were in and out in less than half an hour, and didn't try to sell me anything! Also the service call cost less than I expected.
Had a leak in the yard and was gushing water, was out of town and called ecosystems, David Robertson texted me the next morning, came over early, repaired the leak quickly and surveyed the rest of the yard for any other items that could possibly have been damaged.   He will be my go to irrigation guy from now on!!!! Life saver!!!! Would highly recommend !!!!
David was quick to answer my call. I damaged a sprinkler head and David fixed it amazingly quick. Was reasonably priced, friendly prompt and very professional. Highly recommended.
Awesome! I wish more people were like Dave! Knowledgeable, professional, courteous and honest! Sure it make take a few attempts to get an appointment; but that's because he's in such high demand. I'd recommend patience, as he's worth it. I've now found my 'go-to' person if I ever need work completed on my home's irrigation system.